Last weekend not only was the sun shining in sunny Stockport but we had a super day at an All Day Class I was running with a couple of my team, Alix and Pauline. We had a couple of ladies come along that I met at the papercraft show in Manchester- hello Margaret and Sarah, a lovely newbie crafter Heather, and three of my lovely customers from Wolverhampton/Worcester – Cheryl, Toni and Megan. A small and select group, but boy did we have fun!
Each of the ladies received a little goodie bag holding some of their kit, which was jam packed with all they would need for the day and lots to take home too. They all had 1/2 pack of Designer papers, along with coordinating cardstock, rhinestones, ribbon and more!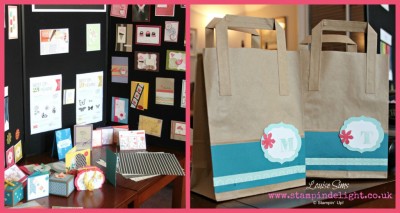 There was also plenty of inspiration around and new product samples for them to look at, a raffle to win Stampin' Up prizes, oh and lunch as well!
For the bright and summery feel to the day we used the Quatrefancy Speciality Designer Papers, teemed up with 2 stamp sets – Mosaic Madness and Summer Silhouettes. The first session of the day was to make 3 cards, fairly straightforward and simple, so they could get used to the tools and just enjoy being creative.
This one showed them how to use the Stamp-a-ma-jig and team up the stamps with the papers.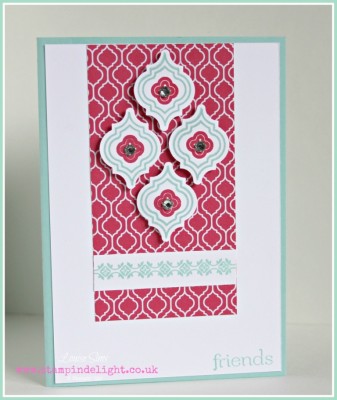 The second one got them having a go with the Big Shot and the fabulous Mosaic Embossing folder.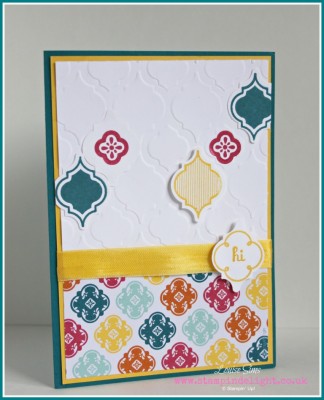 The final card showed them how to do an easel card with the Labels framelits and featured the Summer Silhouettes stamp set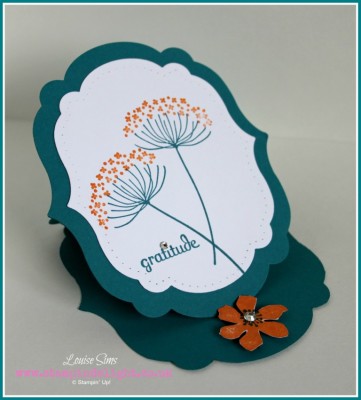 Everyone enjoyed having a go and putting their own spin on the designs – even the lovely Cheryl who usually follows my designs to the letter had a go at changing it up a bit. This is exactly what I love about the classes – by the end of the session I was feeling so inspired and wanted to create too!
Here's a peek at a few of their creations!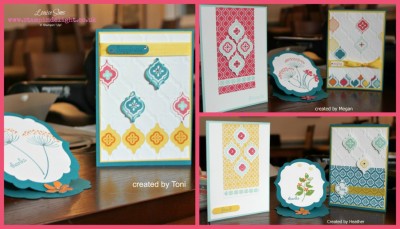 So that was just the first session. I'll be back soon with what else we got up to.
Hasta manana / until tomorrow
Louise
x