I told you yesterday I had more presents to give and today I come back with the next installment. Bonus Days are back!

It's a limited time offer and it works like this :
For every £45 you spend in July you get a £4.50 coupon (via email).
You can use the coupons in August on any item you want!
There is no limit – earn as many coupons as you like.
I recommend using this time to treat yourself to something off your wish list or stock up on essentials. Then, once August rolls around, you'll get to have fun shopping again with all your Bonus Days coupons.
Sounds like fun right? Well before you head on over to the online shop don't forget to make a note of the Online Shopper Club Code.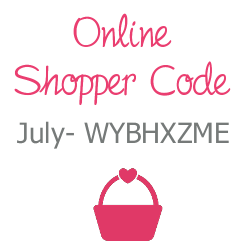 Enter this code into the hostess box on the order page and you will get a free gift from me next month and that's on top of your Bonus Day Coupons. You can read more about it here.
So if your wish list is long, you might want to consider the special offer starter kit, otherwise treat yourself in July and reap the rewards in August with the Bonus Days Coupons. Happy Shopping!
Hasta luego / see you later
Louise