Stampin' Up products are exclusive products that cannot be purchased on the high street, but are only available through an independent demonstrator like me.
There are several ways you can place an order:
Orders can be shipped direct to you via UPS for £4.95 and are usually delivered in 5-7 working days.
When shopping online there are a number of ways you can benefit:
Stampin' Rewards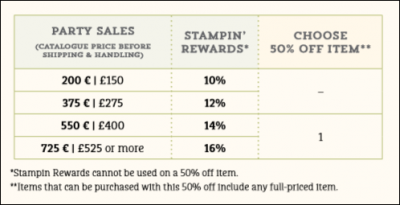 Earn Stampin' Rewards and use them as you wish. You can choose any product from any current catalogue, including the Clearance Rack. Why not use them to purchase discounted Hostess sets, as these can only be bought with Hostess pounds, (see pages 237 – 240 of the 2014-2015 Annual Catalogue).
Does free product sound good? Why not ask a few friends if they want to buy some product too? Then, we can either set up an online party or you can place all the orders in one go and earn your Hostess Pounds.
Want to try before you buy? You can also host a home party where I will come teach you and your friends some great stamping techniques during a fun evening in. I cover Staffordshire, Shropshire, Cheshire and the West Midlands. Plus, when you host a party or place an order for £150 or more you can also earn free Stampin' Up! products of your choice!
Got a large Wish List? Then why not consider becoming a hobby demonstrator.  The starter kit is a one-off price of £99 and you will receive over £130 worth of product of your choice.  Every time you order you will receive discount and there is a low quarterly minimum to reach to remain as an active demo. You can see more information here.
Why order with me? I am committed to providing good customer service and if you select me as your demonstrator you will become a member of my Stampin' Delight Darlings club with a host of benefits.
Hasta luego / see you later
Louise