I'm pretty certain I will continue crafting forever. I love the chance to use my creativity after a day at the day job. I also love the ability to create and make something that means something and I know how much some "happy mail" can affect a person's emotional well being.
Experts say crafting can help those who suffer from anxiety, depression or chronic pain and it may also ease stress, increase happiness and protect the brain from damage caused by ageing. Sounds too good to miss right?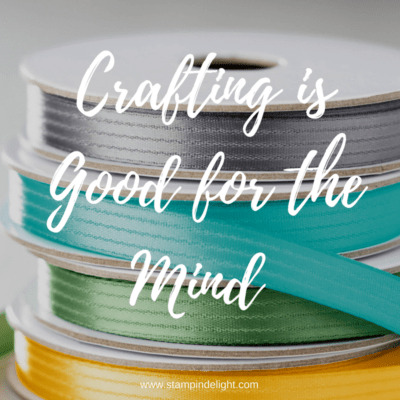 If you haven't tried crafting then I would definitely advocate it. You see, I get so much joy to create and send cards. Check out some of the cards I have been sending and receiving as pure "Happy Mail" on Instagram with the #makeacardsendacard.
So here's today card with the aptly named stamp set, Crafting Forever? This is one of the new ones I received when attending Onstage in Amsterdam and features a fabulous collection of stamps.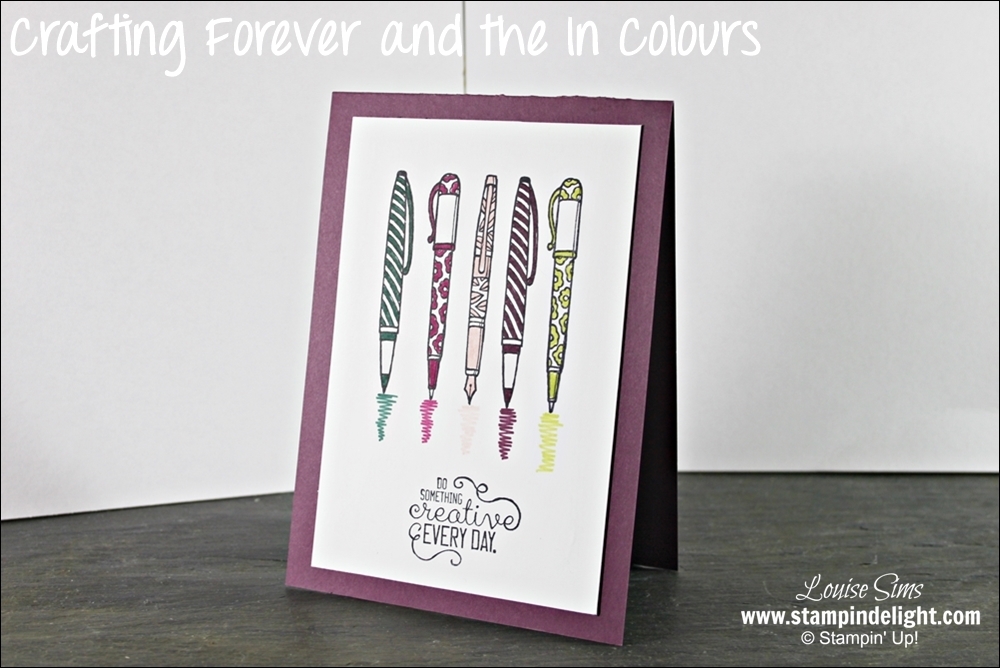 I love this sentiment – the fabulous font and the meaning behind it. Just perfect for me and my belief in the therapeutic effects of crafting. The stamp set also features more fun sentiments and some great artistic images.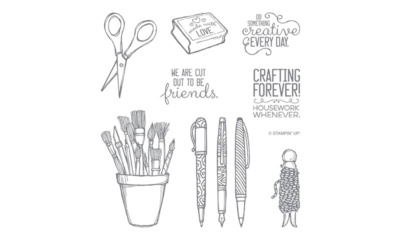 Crafting Forever Stamp Set in Clear Mount £18
Crafting Forever Stamp Set in Wood Mount £25

To create the row of 5 pens (one for each of the 5 new In Colours) I first stamped the whole image in Basic Black Archival Ink in the middle of the piece of Whisper White and then using some post-it notes as masks I added another one of the pens each side.
Each pen was coloured in using the new 2017-2019 In Colour Stampin' Write Markers – the dual ended pens are such a great addition to your stash and colouring in is proven to be very good for de-stressing. I used the thicker end to colour the pens and the fine tip to create the squiggle lines.
Stampin' Up!'s Angel Policy
So, what is an Angel Policy?  If you sell projects made with Stampin' Up! images, you should add one of Stampin' Up!'s © Stampin' Up!" sentiments to the project (like on the back of a card).  If you'd like to read the entire policy, CLICK HERE.
I have more projects to share with you and will share them over the coming days.  I hope you'll come back!
Thanks for stopping by today!
Hasta luego / see you later
Louise
Here are the list of products I used today. All products are from Stampin' Up! and can be purchased from my online shop by clicking the pictures below. If you want to order via me, please do drop me an email or call 07738 562724.  For easy online ordering be sure to add the Online Shopper Code in the hostess box.
Thank you for shopping with me and supporting my business.