Become a Stampin' Up! Demonstrator and join me and my team of Stampin' Senoritas today! 
Whether you just love to stamp, or you want to grow a successful, thriving business, the Stampin' Up! opportunity is almost certainly the right fit for you.
What is a Demonstrator?
As a demonstrator you can run your own home-based business selling creative products that inspire others. You have the opportunity to work with customers and hostesses to give great parties that introduce new people to Stampin' Up. Or maybe you'd like to run crafting classes to introduce new people to crafting and share techniques.
You'll enjoy support and ideas from me and Stampin' Up! making your work easier, more beautiful, in fact…..an absolute blast!
The Low Down on joining. 
"Stampin' Up! is a perfect fit for you if: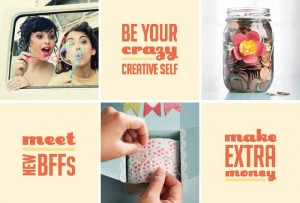 You like setting your own schedule

Adapting your workload to fit your family's needs
Forging new relationships with amazing women
Having a go-to creative outlet that you can share with others
Getting discounts on wonderful exclusive products
Making extra money
So Simple to do. 
Joining Stampin' Up! couldn't be easier. The Starter kits is a very doable £99 and you can customise it to suit your individual needs and tastes – any products of your choice up to £130 and it will be shipped right to your door. You also get a business kit with catalogues, order forms and other supplies as part of your starter kit, worth over £45.
Benefits of being a Stampin' Up! demo
Stampin' Up! demonstrators enjoy many benefits, with just a few listed below:
Product discount – Demonstrators get 20% (after VAT) discount on all Stampin' Up! products, including stamp sets, paper and accessories. It's a great way to support your love of stamping and paper crafting in a cost effective way.
Extra income – You'll earn extra income based on your sales and recruiting – how much extra is up to you. It can be enough for a few family treats or maybe you want to contribute to the household bills – it's your decision.
Flexible schedule – this is your business, so you can put in as much (or as little) time as you like. There's no pressure from me or Stampin' Up! to meet monthly targets.
Inspiration & Support – you have access to a wealth of information from both myself and Stampin' Up! There is a monthly magazine, a demonstrator website which includes ideas,templates and lots of resources. I will provide as much support and training as you need and am always available if you need me. You will also be part of a larger team of Stampin' Up Demos who love to support each other.
Incentives & Bonuses – you can earn lots of free products and cash bonuses through the Stampin' Up! career plan with a great incentive program. You could of course have a bash at earning the Incentive Trip – the next one is an all expense paid Cruise around the Mediterranean!!
So if all this sounds just up your street you can select your Starter Kit right here.
Why become a Stampin' Senorita? 
I joined as a demo in January 2011, just a few weeks before my beautiful daughter was born, mainly to get my hands on the extra discounts to feed my crafting hobby. When Grace was just 6 weeks old I was asked to do a party and since then I have never looked back. I love having a way to earn extra for me and family without it affecting precious family time. Since then I have shared my love of Stampin' Up! with many and now have my very own team –  The Stampin' Senoritas!!
We are a lovely group of crafters who support and inspire each other and  welcome anyone aboard from near or far. We love to share ideas and inspiration and support each other, through team meetings and an active Facebook group.  I didn't know anyone that crafted when I joined and now I have some of my closest friends who are crafters and lots of people who I would never have met without Stampin' Up!
I have a small team so am able to give you the one-to-one support that you need as you start up – but I promise I will never push or pressure you to do more than you want. Stampin' Up! is something that I do outside of a full time job so I can show you how easy it is to earn money in your spare time and even better it's whilst enjoying your hobby and having fun!
Why I love being a Stampin' Up demonstrator
I love sharing creative ideas with friends new and old.
I love getting new people into crafting, especially those that say "Oh I can't do that!"
I love meeting up with other demo's to share and learn.
I love the added income to my household earnings, paying for a few family treats.
Want to find out more or just have a bit of a chat about if it feels right for you or not?
Just give me a call on 07738 562724 or email me at louise@stampindelight.com

Hasta pronto / speak soon
Louise – the Stampin' Senorita