So its look like summer has finally arrived today – shame I've missed out on the 30 degree sunshine with the hectic day job! However, Stampin' Up! know how to bring some summer to my life, with a brand new collection of colours that can only be described as ice-cream colours!
With the launch of a new annual catalogue we are always treated to a new set of In Colours that will be with us for 2 years. This year sees the arrival of Crisp Canteloupe, Baked Brown Sugar, Coastal Cabana, Strawberry Slush and Pistachio Pudding.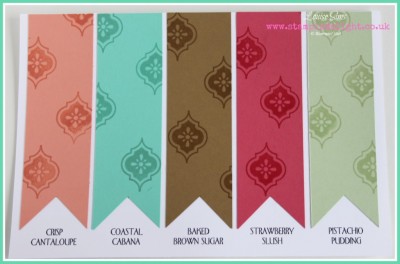 Don't they just scream ice-cream! I'm thinking a mint choc chip combination of Pistachio Pudding and Baked Brown Sugar …. mmmmm!!
Last night I held an exclusive launch party for the new catalogue for a collection of my customers. They are all part of the newly launched Stampin' Delight Darlings Club. You can see all the information on being a Stampin' Delight Darling here. Basically it is a way of me looking after each and every one of my valued customers. I love being a Stampin' Up! demo and this is one of the ways I like to show my customers I appreciate each and every one of them.
The evening was a lovely relaxed affair with a display of some of the new products in the catalogue including all the new colours.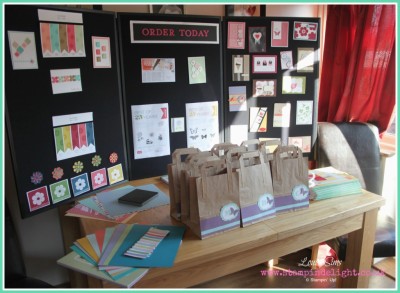 Each of my ladies had their own personalised goody bag with a little bag of treats and the supplies needed to make a handmade card together with their eagerly awaited new catalogue.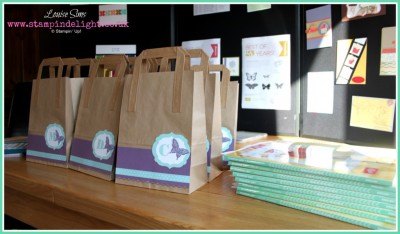 There was new papers to stroke, new stamps to play with, new inks to get messy with and lots more. It was a lovely evening and if you would like to be at the next exclusive Stampin Delight Darlings event then all you need to do is purchase some Stampin' Up! products from me, join my Craft Stash Club or host a party.
If you want to come and see the new colours and the new catalogue, I will be at the Flutterby Art Boutique at Curborough Craft centre, Watery Lane, Lichfield. WS13 8ES on Sunday 7th July, 11am to 3pm.
There will be a chance to browse the new catalogue and get your hands on a copy, samples to inspire you, the opportunity to do a "Make and Take" project with some of the new products and of course a perfect opportunity to visit the Flutterby Art Boutique which is full of high quality handmade crafts & artwork, beautiful gifts, vintage loveliness, handmade & upcycled furniture & lots more!  RSVP to reserve your FREE Make and Take project.
Be back soon / hasta pronto
Louise x