Wow, May already and it's that time again – new catalogue time! I still get excited with every new catalogue and when I saw this one in Amsterdam last month it didn't disappoint!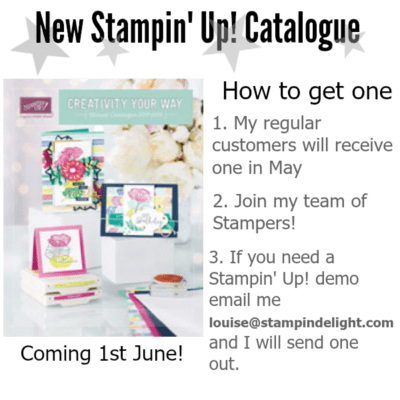 How to receive your new Stampin' Up! Catalogue.
All my regular customers will be receiving one automatically in May. The catalogues are on their way and as I soon as I have them all packaged up with wish lists and relevant information I will be posting them out later this month. (If you have ordered either direct with me or via my Online Store within the last 6 months to a value of £30 or above then you will automatically be on the list)
Join my team of Stampin' Senoritas and receive your new catalogues in your Starter Kit. You can read more about joining here.
If you need a UK demonstrator drop me an email to request your catalogue. If you already have a demonstrator then be sure to contact them for your copy.
Thanks to all my lovely and loyal customers – I love sharing Stampin' Up! with you!
Hasta luego / see you later
Louise