Product shares are a great way of getting your hands on a little bit of everything without spending out on whole reels of ribbon or whole packs of paper. It's a great chance to see all the papers, have a play and decide which ones you like to create with.
Designer Paper Share
This bundle includes 6″ x 6″ sheets of each design from the following Designer Series paper packs:
Double Share – Or if you love Scrapbooking, using larger dies and just love paper, why not Double Up! Receive 90 sheets of 6×12″ for £31.50
In Color 2016- 2018 Ribbon Share
This bundle includes 2 metre of each of the new gorgeous In Color  in Dapper Denim, Emerald Envy, Flirty Flamingo, Peekaboo Peach and Sweet Sugarplum. Get 2 metres of each ribbon to create with.
Nuetrals Ribbon Share
This bundle includes 1 metre of each of the the Natural and Smoky Slate Natural Chevron ribbon, the Burlap and White Jute ribbons, the Venetian Crochet Trim and the Sahara Sand Lace Trim – that's 6m of a range of nuetral ribbons to compliment any project.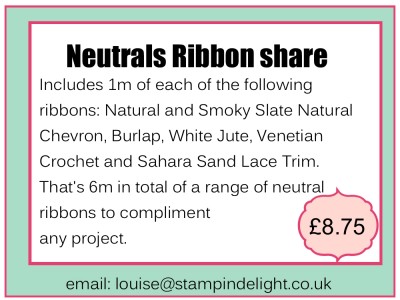 As soon as places are filled I will be ordering the shares on 2nd June. In order to offer these shares, I have to collect signups, submit the order, receive the products from Stampin' Up!, re-package and cut all of the shares to ship back out to you. Thank you in advance for your patience through this process. Please email me with the shares you would like to sign up for.
All shares need to be paid for by bank transfer, cash or cheque.  Should you need it posted out to you P&P will be calculated at cost on your share sign up.