So today is the day, 2 new and exciting things in the Stampin' Up! world are here! Both the new Spring Summer Catalogue and Sale-a-bration go live today. Woo hoo!!!
The Spring Summer catalogue is full of lots of new and fabulous products and lots of inspiration too.
You can browse it online by clicking on the image, or if you would like your own copy then please feel free to request your catalogue here and I'll pop one in the post.
And what's more not only is there new Stampin' Up! products but we have FREE Stampin' Up products with the Sale-a-Bration promotion.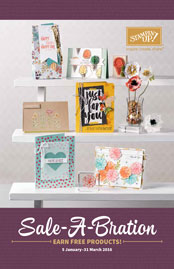 Click on the brochure to view it online – there are so many lovely items to choose from, and there are several ways you can earn the FREE items. Here's the lowdown:
SHOP
For every £45 you spend with me on Stampin' Up! products during Sale-a-Bration promotion you can choose a FREE exclusive product from our brochure. You get one item for every £45 you spend, so if you spend £90 you get two items etc. Some items are only available for a limited time so be sure to get those first …. and there'll be more to choose from in February!
HOST
Host a home party with me, or share the current catalogues with your friends, and gather £200 worth of orders and receive an extra £20 Stampin' Rewards. Everyone at the party gets their choice of  Sale-a-bration freebies with a £45 order so your guests will be unable to resist, making it a perfect time to party.
Contact me on 07738 562724 to book your party in Staffordshire and West Midlands. If you're further afield why not host an online party with your friends via the magic of Facebook. It's a fun evening and you can even stay in your pj's! 
JOIN
Have a huge wishlist or want to start your own business? Sale-a-bration is the perfect time to join as not only do you get a choice of £30 extra product in your starter kit, but you join at an exciting time.  There are lots of possibilities on how to use your demoship, whether it be discount on your stash, money to support your hobby or even a full or part time business.  You can find out more here or drop me an email at louise@stampindelight.com or call me on 07738 562724 to chat about the possibilities.
Don't forget that all orders placed via my online store receive a handmade thank you card – just make sure you tick the box for me to contact you – it doesn't add you to a mailing list, it just lets me know who are so I can thank you and ensure you are happy with your purchase.
Also for all orders over £20 you can become part of the Stampin' Delight Darlings Online Shopper Club by inputting the Hostess code 6KJQNEXU with your order, and receive a free gift from me. You can learn how to shop online and input a Hostess Code here, but please do not use the code on orders over £150 as it will remove your Hostess Rewards, but don't worry you still receive your free gift.
I'll be back soon with some creative shares of new products!
Hasta luego / see you later
Louise.