Love is most certainly in the air this month at the Stampin' Creative Blog Hop! Indeed, I do love the fabulous group of bloggers that form this crew and when we realised that it has now been one whole year since we began to bring you a collection of inspiration each month, we also realised that it's 12 whole months of supporting and cheering each other on. You see, behind the scenes of planning this hop we have a communal group where we share ideas, successes and frustrations,  so not only has this hop hopefully improved our online presence and blogging, but we have also formed some special friendships that, I for one, have come to truly value and indeed rely on. Love them I do!!
So with all that love and friendship brought into focus, what better theme this month than one of love! Of course, it does also help that Valentines is around the corner, so come and see what I have to share today!
STAMPIN' DELIGHT TIPS & TRICKS
This card features a new stamp set in the Summer Spring Seasonal called First Sight which I purchased by accident (I know, right!) but I now actually love! The gorgeous vine motif together with some lovely sentiments make it a welcome addition to the stamp collection, so that was a happy accident!
The simple card design allows for the motif to take centre stage whilst a couple of cute heart toppers make it a perfect design for valentines, wedding or anniversary cards. I also love the "Kindred Spirits" sentiment and it's just perfect as a card for my sweet hubby (don't worry he never reads the blog so I'm safe sharing now!)
I also created a matching gift with this cute chocolate bar cover. The bar itself is wrapped in some the Brights Designer Paper Stack and then I created this little box for it to sit in with a few simple scores.
The decoration of the chocolate wrapper matched the card with a cardstock wrapper and another punched out heart, though this time in the Red Foil, and topped with another from the small heart punch from the Itty Bitty Punch pack. The greeting comes from Crazy About You – lots of choices in this set and perfect size for the project.
Here's the duo together … hopefully something nice to wake up to on Valentines day! If you'd like to know how to make the chocolate bar wrap box, please leave me a message and I'll see what I can do!
So now it's time to see what loveliness the rest of the Stampin' Creative crew have come up with. Click on the button to head on over to Kim and her fab creations.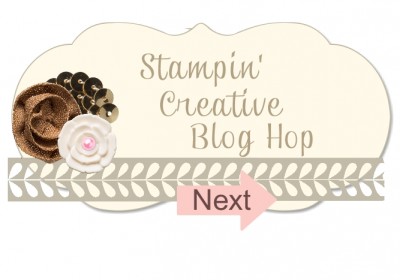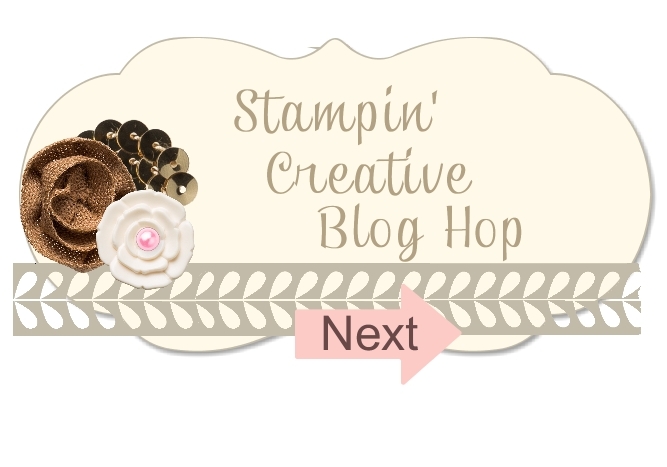 Stampin' Creative Blog Hop List
To join the Stampin Delight Darlings Online Shopper Club enter this months code and receive a free gift in the mail from me. Learn more.
Stampin' Up Supplies List –  Click on the images below for more product details and easy on-line shopping!