Welcome to another edition of the Stampin' Creative blog hop – I love being part of this fabuous group of demo's as not only is great to do the hop but behind the scene's there is so much fun, support and sharing for the hop and for our Stampin' Up! businesses as well. The Stampin' Creative crew rock! You might have joined me from the very lovely Mikaela – she always does amazing projects so if you haven't seen them be sure to pop by!
Today we have a "Summer Lovin" theme, and whilst the summer had seemed to have disappeared I'm glad it looks set to return, especially with a special Birthday BBQ planned this weekend! During the summer one of the things my little ones love to do is go for a picnic, whether it be out and about or just in the garden, so that got me thinking and this is what I came up with.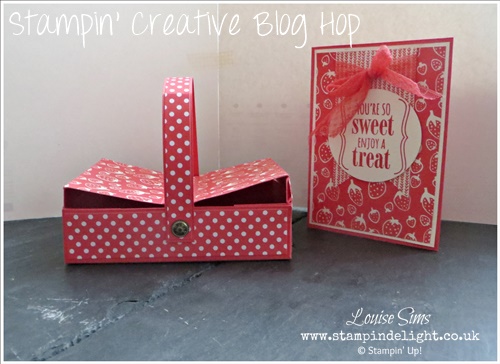 STAMPIN' DELIGHT TIPS & TRICKS
The picnic basket is made following a tutorial I found on Pinterest. It's super easy to make doesn't require a lot of cardstock or DSP either. I covered mine with one of the fabulous summery designs from the new Sweet L'il Things Designer Series paper from the Annual catalogue – a strawberry delight in shades of Watermelon Wonder. Yum!
The coordinating spotty paper is from the In Colour Designer Paper stack – great value at £20.00 for 40 12×12 sheets in the 5 new colours.
A couple of Antique Brads hold the handle in place and finish it off before adding some yummy treats inside!
I made a matching card to go with it featuring one of the fun sayings from You're So Sweet and more of that scrummy paper. The banner also is cut from another design from the Sweet L'il Things Designer Series Paper.
The card is finished off with a bow in the very lovely Watermelon Wonder Dotted Lace Trim.
Hope you like this share? Be lovely to hear what you think!
So now its time to hop over to Lesley at Lelly Jelly's Stamp & Scrap – I'm sure she's got something lovely to share. Just click on the button below and by the power of computer wizadry you'll be there!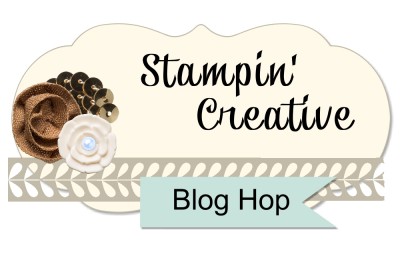 If you get a little lost there is a full list below.
Hasta luego / see you later
Louise
You're here at Stampin Delight
 To join the Stampin Delight Darlings Online Shopper Club enter this months code and receive a free gift in the mail from me.
Learn more
.
Stampin' Up Supplies List –  Click on the images below for more product details and easy on-line shopping!
Other Inspiration …