So it's just over a week since I returned from a fabulous few days in Amsterdam for the Onstage Live event.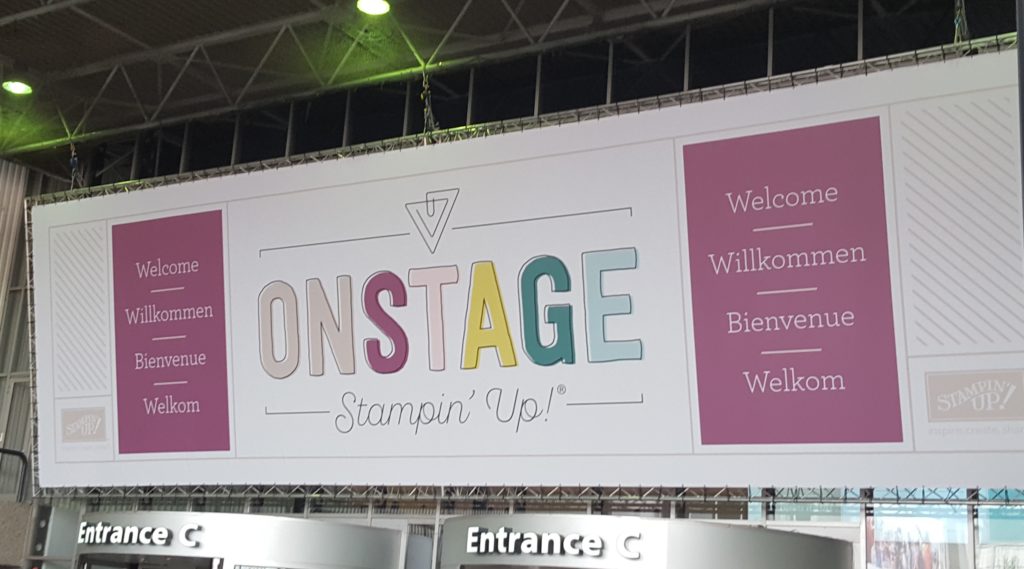 Every 6 months Stampin' Up! gives a great excuse to meet up with a load of other demonstrators and see brand new products – just brilliant and a great perk of joining Stampin' Up!. This time the main event was here in Europe, at the RAI Amsterdam and was attended by over 800 demonstrators from the European market (UK, Germany, France, Austria and Holland). There were even some from the USA, Canada and Australia too. In the other markets, they got to gather too, and view live streams from Amsterdam at their Onstage Local events.
Stampin' Up! friendships
Each time we gather I get a chance to meet up with old friends, make new ones and see some of the Stampin' Up! corporate team. It's so much fun!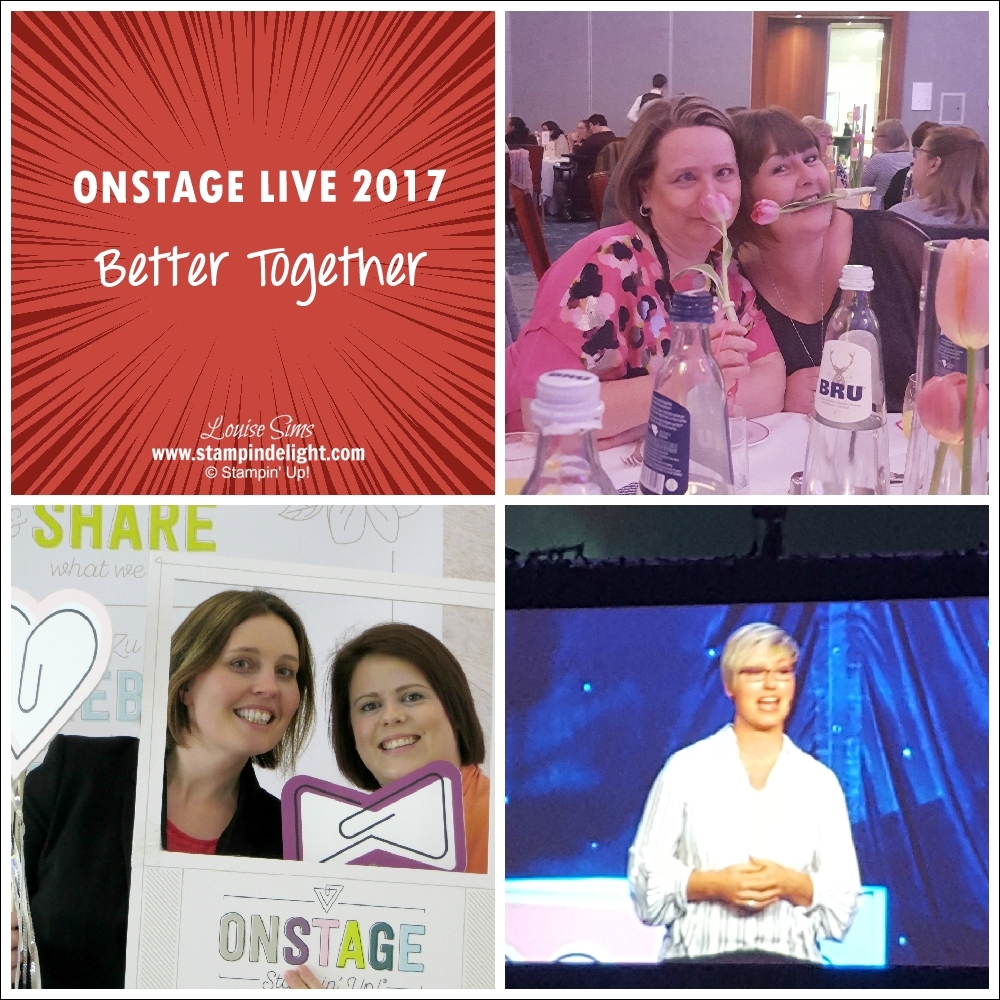 Bottom left: Me and my downline Katy who shared the whole event with me from start to finish – and a fun roomie too!
Top Right: My awesome and fun uplines Kim and Natalie – love these two for their encouragement and support throughout my Stampin' Up! career.
Bottom Right: Sara Douglass, the CEO of the company, who is such a genuine and kind person, and whose love for Stampin' Up! and her demonstrators shines through in everything she does.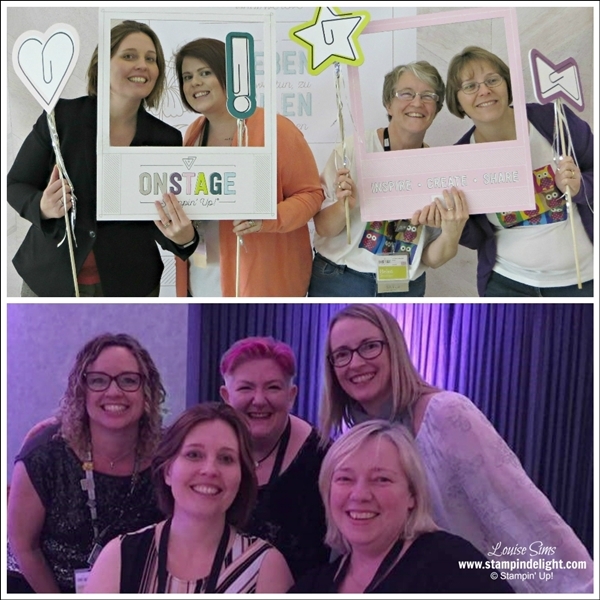 Top photo: Me and Katy and a couple of friends we spent lots of time with – the lovely Joanne and Helen.
Bottom photo: This was taken at Centrestage – a special event Stampin' Up! organise for all those who are titled at Silver Elite and above. It was fabulous evening of networking, yummy food, dancing and lots of giggles! I loved spending time with these awesome ladies – Mikaela, Pip, Eimear and Gina, who have become firm friends.
All these friendships have come about because of joining Stampin' Up! and that starter kit I purchased back in 2011. Who knew wanting to get discount on my supplies would lead to all this? I love that Stampin' Up! has given me the chance to meet with some awesome women!
The whole event is great fun and we get so many ideas for both the creative side and business side of our business. At every Stampin' Up! event we swap projects with other demonstrators. I took 50 swaps so have come home with 50 ideas of projects from other demonstrators and will be sharing them on a Facebook Live event soon,  so check out my Facebook Page.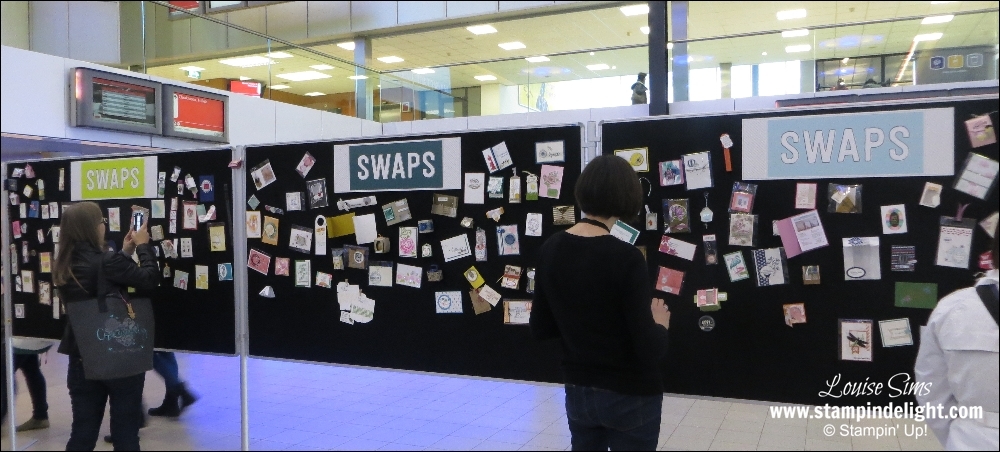 This Onstage event was focused on sharing with us the new Stampin' Up! annual catalogue which launches on 1st June. B attending the event we received lots of awesome goodies and we also got chance to purchase some of the new items last week too! My pre-order has arrived and I can't wait to play! I will be sharing some sneak peeks soon!
If joining Stampin' Up! sounds like fun to you … well how could it not hey? Purchasing a £99 starter kit could open the door to you of a whole crafting community to you. It's simple to do – select £130 worth of product and sign up here. Should you want to chat with me about joining my team, or selecting your starter kit, then please do let me know with a message and I'll drop you a line.
Hasta luego / see you later
Louise