Have you been browsing the new Stampin' Up! Annual Catalogue? Got a huge wish list? Then I have a couple of ways you can get more for your money! Come and see …..
1. DEAL OF THE DAY
First up, the Starter Kit is always the best deal of the day. You get to choose any £130 worth of product and pay just £99. Plus you get discounts on all your future orders. How Cool! By buying the starter kit you also get access to the Number 1 Crafting community in the world. Sounds good right? It's simple to do – select £130 worth of product and sign up here. Should you want to chat with me about selecting your starter kit, then please do let me know with a message and I'll drop you a line.
2. EXTRA HOSTESS REWARDS
In June, it is the best time to host a party or a Private Class as there are extra rewards for hosts.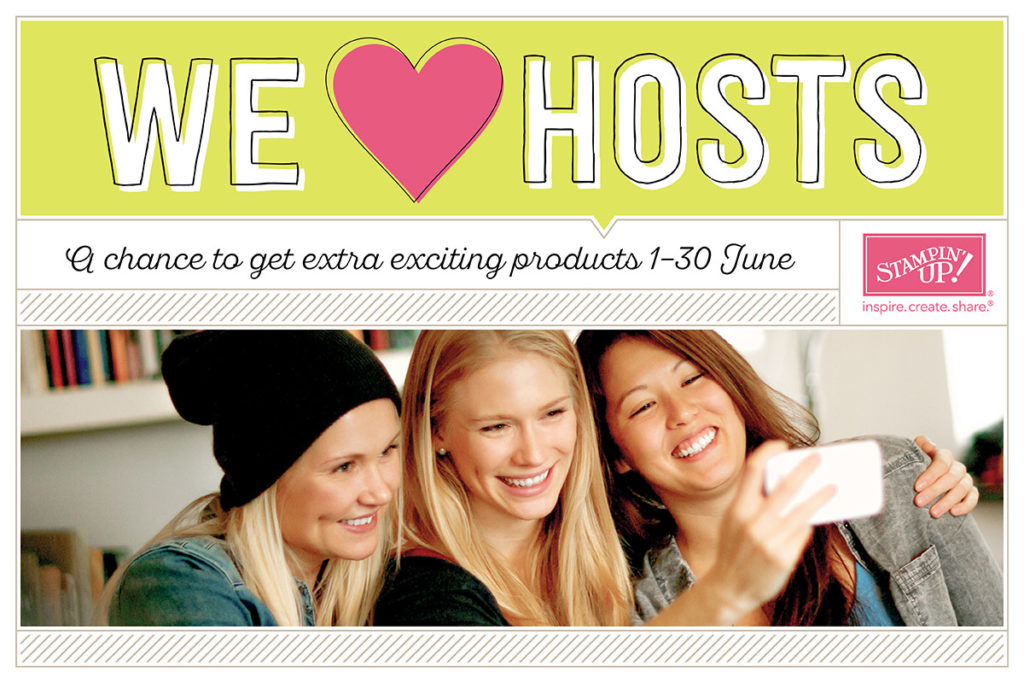 If you have a really big wish list and are looking to treat yourself to a big order then check out our offer for an extra £30 in freebies with an order over £300 in June. Why not get a group of friends together and get some extras!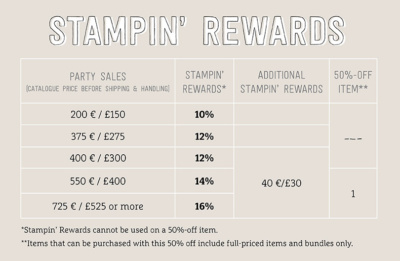 3. PRODUCT SHARES
I am also offering some product shares for those want some of everything.
There are so many new gorgeous papers, I couldn't decide which pack to get first so I have created a share where you can get your hands on a little bit of them all.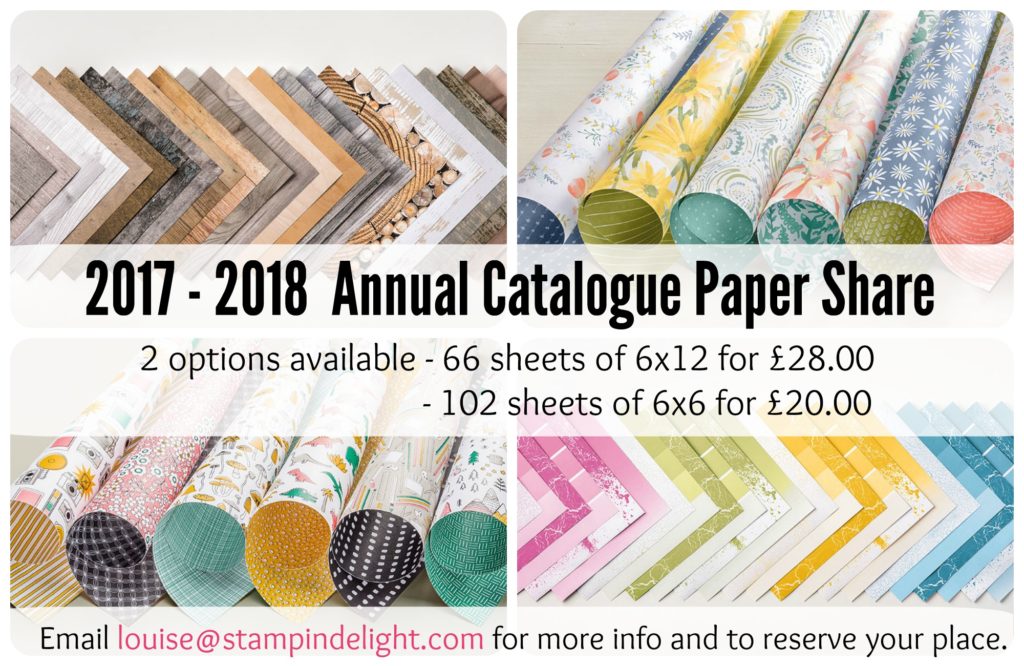 There are 2 options – 6 x12 for those who like die cutting and having that bit more to play with or 6×6 of all the packs in a handy size to try them all.
6″ x 12″ of each design in Whole Lot of Lovely, Naturally Eclectic, Coffee Break, Pick a Pattern, Be Merry, Birthday Memories, Delightful Daisy, Eastern Palace, Bundle of Love, Foil Frenzy, Just Add Colour = 66 sheets for £28.00
6 x 6 of each design in all of the above plus Petal Garden, Colour Theory, Wood Textures = 102 sheets for £20.00
If you'd like to reserve your place drop me an email at louise@stampindelight.com.
The other thing I love with a brand new Annual Catalogue is the 5 new In Colours that freshen up our colour range. Have you met this years fab 5 yet? If not check out this blog post here.  I know many of you like to get the collection of new inks and cardstock so I have pulled together a little share of the complementary products so you have a whole set of coordinating products to get creative with.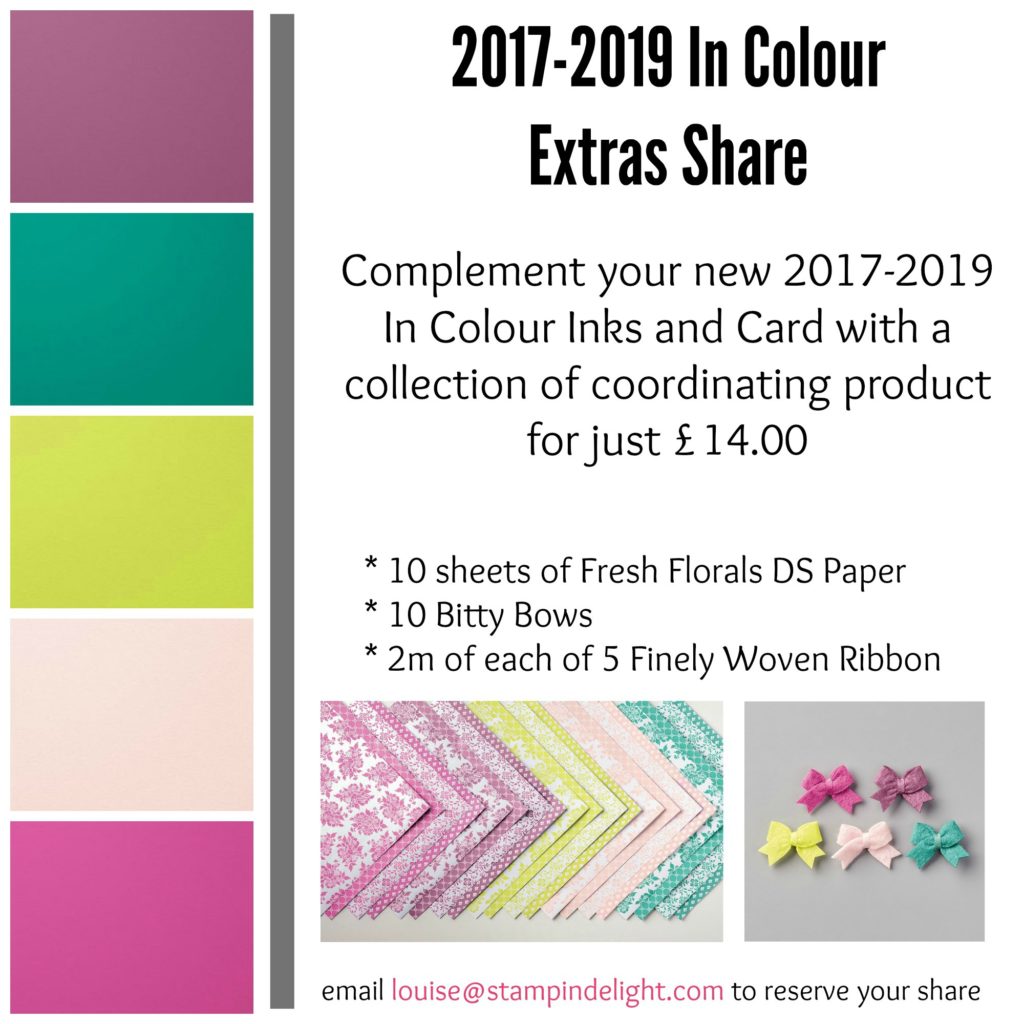 You can drop me an email reserving your place in the share.
I need several people for each share, so will order as and when each share is filled. Postage will be calculated once the shares are here and emailed to you for payment, depending on the actual cost of posting it out to you.
After the products are delivered here  I will cut and package it and mail it back out to you. In the event of a backorder situation, I will update delivery info here and on my business Facebook page. Shares ship to UK addresses only.
I'll be back tomorrow with something creative to share,
Hasta luego / see you later
Louise