Ho Ho Ho … hope you had a fabulous day yesterday! A lovely family festive time here and and a chance to spend quality time with my two munchkins! So whilst the kids play with their new toys I thought I'd share a sneak peek of new product coming in the New Spring Summer Seasonal catalogue which launches on the 5th January.
What's more if you follow the link at the bottom, there is even more sneak peeks as this post is part of the Stampin' Creative Blog Hop so my favourite group of bloggers are all here to share with you too! If you've popped by from Lesley's blog then hello and welcome, if not be sure to carry on hopping round – all the links are at the bottom of the post.
So without further ado …. here's a sneak peek!
STAMPIN' DELIGHT TIPS & TRICKS
The products I'm sharing with you today are from the Botanical Gardens suite coming in the new catalogue. I was lucky enough to get to use this set ahead of anyone else as I had it to present with it at Onstage (you can read more about that here).
It's a great suite because it not only features coordinating stamps and framelits but also Designer Series Paper which means lots of fun stamping on the paper and changing it up! Can imagine so many possibilities with this!
Also, the framelits are a great collection of coordinating shapes and there are some exciting new features like this pop up elements and also a great border edgelit (I'll share that soon!)
The card features the product taster I made at Onstage – that's the great thing at our Stampin' Up! events – we get to play with new product. Since early December we've been able to order product from the new catalogue so another perk there too!
This set of projects was one of the shares at my recent team meeting with my Stampin' Senoritas – it's great getting together with them to share ideas, craft and natter. We created this set so they have a ready made sample to show their customers and a card and gift card holder are always useful for hobby demo's.  I love being part of a team and would love some new members in 2016 so please do get in touch if you want to know more.
Hope you liked the sneak peek … can't wait to share more with you, but for now time to hop on over to Queen Pip  as I'm sure she's got something fab to share – just click on the image below.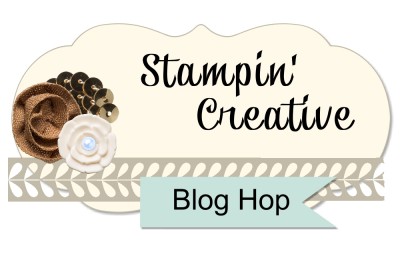 Hasta luego / see you later
Louise
Stampin' Creative Blog Hop List
To join the Stampin Delight Darlings Online Shopper Club enter this months code and receive a free gift in the mail from me. Learn more.